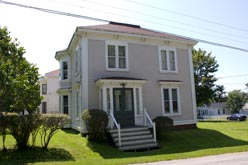 STREET ADDRESS: 45 Alma Street
CITY/TOWN/VILLAGE: Yarmouth
MUNICIPALITY: Yarmouth
COUNTY: Yarmouth
YEAR BUILT: circa 1887
ARCHITECTURAL COMMENT:
Italianate in style, this is a two storey home of wood construction. The symmetrical two bay facade has an off-centered doorway. The low pitched hip roof has wide eaves supported by decorative brackets and one chimney, discreetly placed. The wide paned windows are two over two double hung with wide casings. The lower floor windows are trimmed with heavy entablitures and decorative brackets. There are two storey bay windows on both sides of the building. There is a gable roof ell to the rear, this contains one shed roof dormer with two windows. A matching shed is attached to the west of the ell and an enclosed porch to the east. The building is clad in narrow wooden clapboards and trimmed with wide, contrasting cornerboards.
HISTORICAL COMMENT:
In 1879 Prince Durkee purchased this lot of land from Robert S. Eakins, a merchant for $525.00. In 1887 Durkee took out a mortgage with the Board of the Presbyterian College Halifax for $1,600.00. It is believed that he was building this house at that time. In 1888 Durkee sold the property to Huram Chute for $900.00 and the $1,600.00 mortgage, at this time Durkee was residing in San Diego.
Hiram Chute was a co-partner in Chute, Hall and Company. This company, located on Water Street immediately south of the Marine Railway, manufactured Church and Parlor cabinet organs. The actions for these instruments were also manufactured on the premises.
Mr. Chute had been employed with five different organ builders in the United States and later with the Annapolis Organ Co. before moving to Yarmouth.
In 1893 the co-partnership was dissolved and reopened under the name H.E. Chute and Co.
CONTEXTUAL COMMENT:
Situated at the corner of two streets, a lane runs along the west side of the property and small shrubs and a hedge surround the grounds. As in many homes in Yarmouth this house has lost its original cupola which is clearly pictured on Currie's B.E.V. Map (1889)
PRESENT OWNER: Kenneth Wheelans
ADDRESS: P.O. box 701 Yarmouth, Nova Scotia B5A 4K3
ORIGINAL OWNER: Prince H. Durkee
OCCUPATION: Clerk
BUILDER: Unknown
ORIGINAL USE: Residential (single family)
PRESENT USE: Residential (single family)
HISTORY OF BUILDING

OWNER

FROM:

TO:

OCCUPATION

BOOK-PAGE

Prince H. Durkee

Nov. 1 1879

Nov. 10 1888

Clerk

BF 49

Hiram E. Chute

Nov. 10 1888

Apr. 13 1894

Merchant

BQ 514

Ann S. Hatfield

Apr. 13 1894

N/A

N/A

BY 155

W. Fred Hatfield & Marion B. Tooker

N/A

July 25 1945

N/A

N/A

George L. Publicover

July 25 1945

June 1946

Retired

ET 636

H.H. Wetmore

June 1946

Aug. 7 1947

N/A

EV 554

Joseph E. Steadman

Aug. 7 1947

Aug. 12 1948

N/A

EX 179

Roy Avard Carroll

Aug. 12 1948

Feb. 28 1953

N/A

EZ 261

C.L. Girvan

Feb. 28 1953

Sept. 7 1955

N/A

FK 241

Nina M. Slade

Sept. 7 1955

Dec. 3 1964

Married Woman

FO 241

Herbert Margolian

Dec. 3 1964

Sept. 3 1968

Merchant

GI 683

Herbert & Elizabeth Margolian

Sept. 3 1968

Oct. 1 1969

N/A

GZ 1

Rufus Earl Ettinger

Oct. 1 1969

Jan. 20 1982

Air Canada employee

HE 497

Michael John Kendrick

Jan. 20 1982

July 3 1987

N/A

NG 299

Robert L. Copeland

July 3 1987

Nov. 14 1988

N/A

430/532

Kenneth/Simone Wheelans

Nov. 14 1988

June 29 1995

Stock broker

451/867

John D./Janet L. Nause

June 29 1995

Feb. 11 1998

Teacher/accountant

532/979

Kenneth Wheelans

Feb. 11 1998

Present

Stock broker

564/266
SOURCES: The Yarmouth Herald (July 9, 1883) Registry of Deeds (Yarmouth) McAlpine directory (1890)(1895) Yarmouth directory 1949 Yar. Co. Industrial file (Yarmouth Museum)